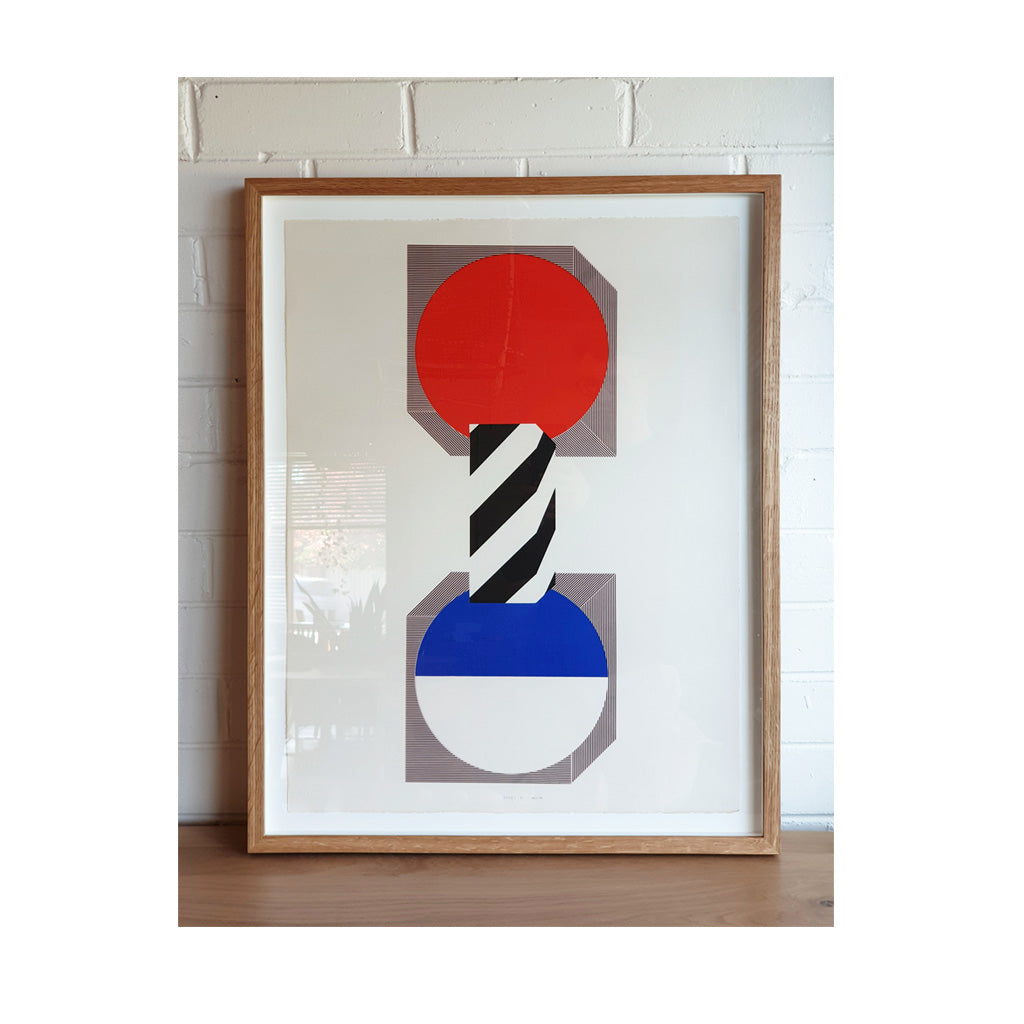 Kumi Sugai Limited Edition (44/100) Geometric Blue Red Black
Kumi SUGAI
Kumi Sugai (Japanese, 1919–1996) was a painter and printmaker, who, like many Asian artists of his generation, settled in Paris and adopted a western style in his art. Born in Kobe to Malaysian musicians, Sugai attended the Osaka School of Fine Arts, where he learned about European painting techniques in addition to classical Japanese painting and calligraphy. In 1937, he dropped out to work as a designer at a railway company until the end of World War II. In 1952, Sugai moved to Paris, where he studied at the Académie de la Grande Chaumiere, and absorbed western styles, including Abstract Expressionism, and later, Minimalism and Pop Art. At first, Sugai worked with traditional ukiyo-e woodblock techniques, using bright colors to create prints infused with contemporary western influences. In the 1960s, however, Sugai transitioned into painting and printing more geometric images of letters and traffic and directional signs. He quickly met international success, and exhibited work at the Sao Paulo Biennale, documenta at Kassel, and the Venice Biennale, as well as solo shows in New York and Tokyo. In addition to painting, Sugai wrote essays on his artistic process and, inspired by his friend, Alberto Giacometti (Swiss, 1901–1966), translated the subject matter of some of his paintings into small sculptures. Though his work fell out of the public eye, Sugai continued to work in his geometric style for the rest of his life. Sugai died in his hometown of Kobe in 1996.
Materials: Original lithograph on japon paper, hand-signed and hand-numbered (86/100) in pencil by the artist
Dimensions (cm): Paper size: 50 x 65 cm
Framing (cm): Hand finished 59 x 75 cm / Gallery Profile
Signed and numbered lower centre
Pick up from showroom or please enquire for custom art delivery quote.
---
---
More from this collection
Instagram